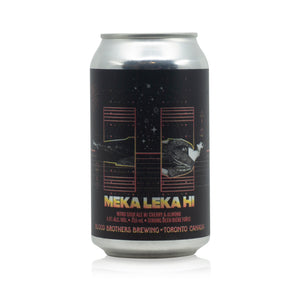 Blood Brothers Meka Leka Hi 355ml
Brewery: Blood Brothers Brewing
Origin: Canada
Style: Sour - Smoothie / Pastry
ABV: 6.9%


Nitro Sour w/ Cherries & Almonds • 6.9% ABV

Looking to the world of desserts for inspiration, we have created our very own version of the famous sour cherry almond cake. Our soft and full-bodied sour base meets Montmorency cherries and sweet almonds on the luscious meadows of indulgence. We combine this with the luxurious finish of nitro to bring you the dessert course you've been waiting a lifetime for!
 Bon appétit, mes amis!