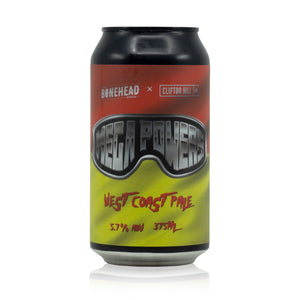 Bonehead Mega Powers 375ml
Brewery: Bonehead Brewing
Origin: Australia
Style: Pale Ale - American
ABV: 5.7%

Collaboration with Clifton Hill Brewpub
Well, Let Me Tell You Something, Brother!

With the Madness and the Mania as one guiding force, we could go ahead and take the whole West Coast and put it in this tiny can.

This tin is the tower of power, too piney to be sour.

Clear and bright, just like it's dark at night. Sky's the limit and space is the place!

Ooooohhhh yeah, dig it?