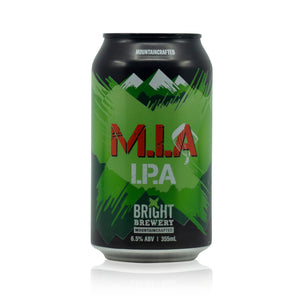 Brewery: Bright Brewery
Origin: Australia
Style: IPA - American
ABV: 6.5%
Bright Brewery's celebration of fresh fruity, tropical, floral HOPS! Discover a balanced bitterness provided by a malt structure that does just what it needs to let the hops sing.

Aptly named M.I.A. because when the first batch was about to be kegged, our then brewer Jon went paragliding at lunchtime and then didn't come back from lunch. Turns out he had to make a forced landing on Mt Feathertop and didn't get back until late into the night.