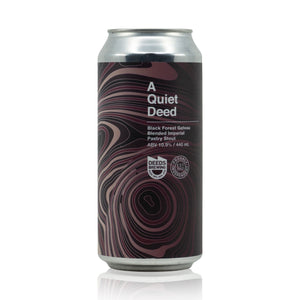 Deeds A Quiet Deed 2023 440ml
Brewery: Deeds Brewing
Origin: Australia
Style: Stout - Pastry
ABV: 10.9%
It's been eleven years since the name Quiet Deeds hit the shelves of your local bottle shop and let's just say that a lot happened in that time. Something that hasn't changed from day one is that we wanted to make beer that we enjoyed drinking and to do so humbly, quietly.
To celebrate our 11th Birthday, we brewed a beer that highlights our journey over the last year. So here is our Black Forest Gateau Blended Pastry Imperial Stout!
Decadent, fruity and rich; enjoy this Pastry Imperial and BBA Imperial Stout blend. The perfect cake for our birthday!