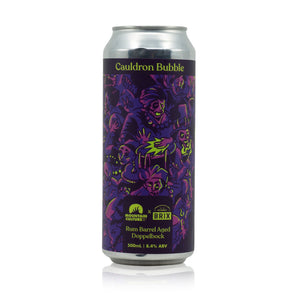 Mountain Culture Cauldron Bubble 500ml
Brewery: Mountain Culture Beer Co.
Origin: Australia
Style: Bock - Doppelbock
ABV: 8.4%
Visitors to our taproom may have overlooked this beer that was hiding in plain site, ageing in barrels from our friends at Brix Distillers in Surry Hills.

Together we've kept this collaboration secret since August 2022 when we conjured up the idea to do a new doppelbock and throw it into some freshly decanted Brix rum barrels.

After 10 months ageing, we again decanted the barrels to reveal a concoction with a rich malty backbone; a deep, complex sweetness and top notes of earthy minerality. Capping this off is the warming vanilla, toffee and spice with lingering notes of stone fruits provided by the rum barrels.

If you're looking for the perfect winter warmer, this is it.