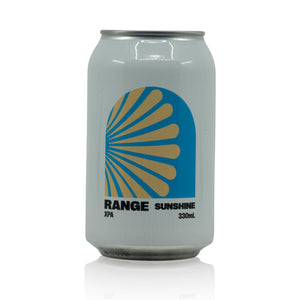 Brewery: Range Brewing
Origin: Australia
Style: Pale Ale - XPA (Extra Pale)
ABV: 4.5%
Sunshine is a clean and crisp pale ale that's extra light in colour with a fluffy white foam. On the nose, expect bright notes of fresh citrus and subtle hints of pine, blended with ripe stonefruit. We've kept the malt bill light and clean, so our hand selected hops from the US and New Zealand can take centre stage. Take a sip and be immediately taken to a sunny paradise with fresh hoppy notes of lychee, overripe mango and citrus peel. The body is smooth and carries with it a mild and refreshing bitterness. Perfect for any occasion, but especially when the sun is shining!