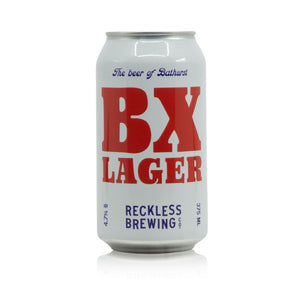 Brewery: Reckless Brewing Co.
Origin: Australia
Style: Pilsner - Czech / Bohemian
ABV: 4.7%
Sometimes you just want a beer. Nothing fancy. Just something super fresh to wet the whistle or watch the big game with. We've got your back with BX Lager. Brewed from the highest quality Saaz hops, BX is crisp, clean and easy to drink, making it a great tasting no-brainer to enjoy whenever you're crying out for a cold one.