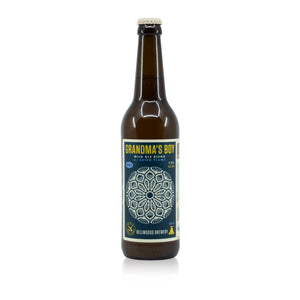 Bellwoods Grandma's Boy: Shiro Plums (2021) 500ml
Brewery: Bellwoods Brewery
Origin: Canada
Style: Wild Ale - American
ABV: 7.7%
Barrel-Aged Wild Ale with Fresh Niagara Shiro Plums
A wild ale blend made in the Bellwoods Solera style. Repeatedly, foeder-aged beer is blended with a small percentage of fresh beer to create a spritzy beer with layers of firm acidity, refined brett character, stone fruit flavour, and soft minerality.
This variant conditioned on fresh Shiro Plums from Niagara, imparting notes of marzipan, citrus, and sweet tarts.