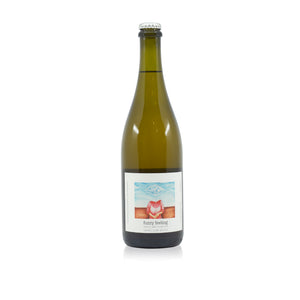 Sobremesa Fuzzy Feeling 750ml
Brewery: Sobremesa Fermentary & Blendery
Origin: Australia
Style: Fruit Beer
ABV: 5.3%
'fuzzy feeling' | blend of barrel fermented saison | aged on apricots from rayners orchard (VIC) | 5.3 %

Production time | 16 months

We have really enjoyed working with Len from Rayners Orchard over the last couple of years.

This is a blend of barrel fermented table beer and our solera - saison puncheon. Apricots are naturally very high in acidity and so we chose a base blend with mild acidity that would really accentuate the fruit. We blended this back in February and left the beer to macerate for 6 months on 200g/L of whole apricots. We find using whole fruit allows for an extended maceration and there are some nougat/almond characters that you can only achieve through ageing on the kernels.

Packaged on August 3rd 2022 and bottle conditioned for 4 months.

Fresh. ripe apricot jumps out the bottle the moment it's opened. It's very reminiscent of the day we walked up and down the rows of the orchard.

Apricot pie, spice, skin, & flesh make way for a complex palate. There is an underlying funk/muskiness that makes this very well integrated.

A really beautiful showcase of our barrel program and local fruit.