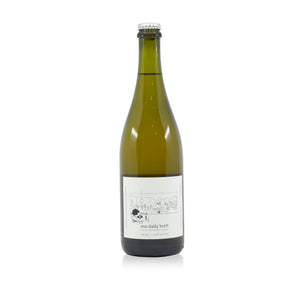 Sobremesa Our Daily Brett (Blend 02) 750ml
Brewery: Sobremesa Fermentery & Blendery
Origin: Australia
Style: Farmhouse Ale - Saison
ABV: 5.4%
'our daily brett' | blend of barrel fermented saison | conditioned w/ brettanomyces | 5.6 %
Production time | 2 years
Blend | #2
This is blend 2 of the first beer we released back in 2020.
A blend of our three favourite saison barrels varying from 4 months - 2 years in age.
40% saison aged in a hogshead (4 months old)
30% saison aged in a barrique (16 months old)
30% saison aged in a puncheon (2 years old)
I guess you could say it is our version of a grand cru, our yearly assemblage.
Packaged on September 11th 2022 and bottle conditioned for 12 weeks.
Wet hay, lemon verbena & oyster shells. Savoury french oak combined with upfront stone fruit really make the palate an enjoyable journey.
Subtle acidity, dry and structured.
Super fresh, complex & lifted while still being really approachable.